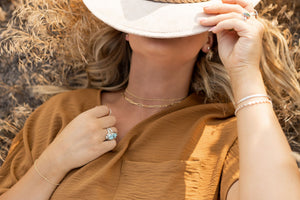 One of A Kind +
Everyday Jewelry
The Gallery
From rings to bracelets and more, get inspired by taking a look at Sara's past work!
View the Gallery →
Gift Indie Rae this season:
Ready to Ship Collection
From simple, everyday pieces to beautiful, one-of-a-kind pieces, shop our Ready to Ship Collection by December 14th for holiday arrival!
Shop Ready to Ship →
Just Released:
The Everyday Collection
Our simple, everyday pieces are finally here! From simple and easy-to-wear rings and bracelets, to dainty yet sturdy necklaces and earrings, our Everyday Collection is a must see!
Shop Everyday Jewelry →